The choice between buying a home and renting one is among the biggest financial decisions that many adults make. But the costs of buying are more varied and complicated than for renting, making it hard to tell which is a better deal.
In this article, I will share with you the factors you should consider before you decide to rent or to buy a property in Singapore. To start with the analysis, I would segregate the readers into 3 broad categories, this would facilitate the readers into a focused view.
The 3 categories are:
Singaporeans

Foreigners

Singaporean PRs
I will first present the Singaporeans and Foreigners categories as these 2 categories are more straightforward. Following which, I will provide a detailed analysis for Singaporean PRs.
1. Singaporeans
It is very straightforward, the natural choice is to BUY a property in Singapore. Regardless you are single, married or have intention to emigrate to another country. The reason is very simple, buying a property adds the property as an asset into your personal balance sheet while renting is always considered an expense.

For singles, there are many options available and in fact, there is no "right time" to purchase property. There is only the "right unit" to purchase. As seen from the chart below, property prices have been climbing up (there was only 1 significant dip for the past 20 years, which was in 2008/9 during the Lehman Brothers crisis but property prices recovered quickly and in fact, there were no impact from Covid-19 on Singapore property prices.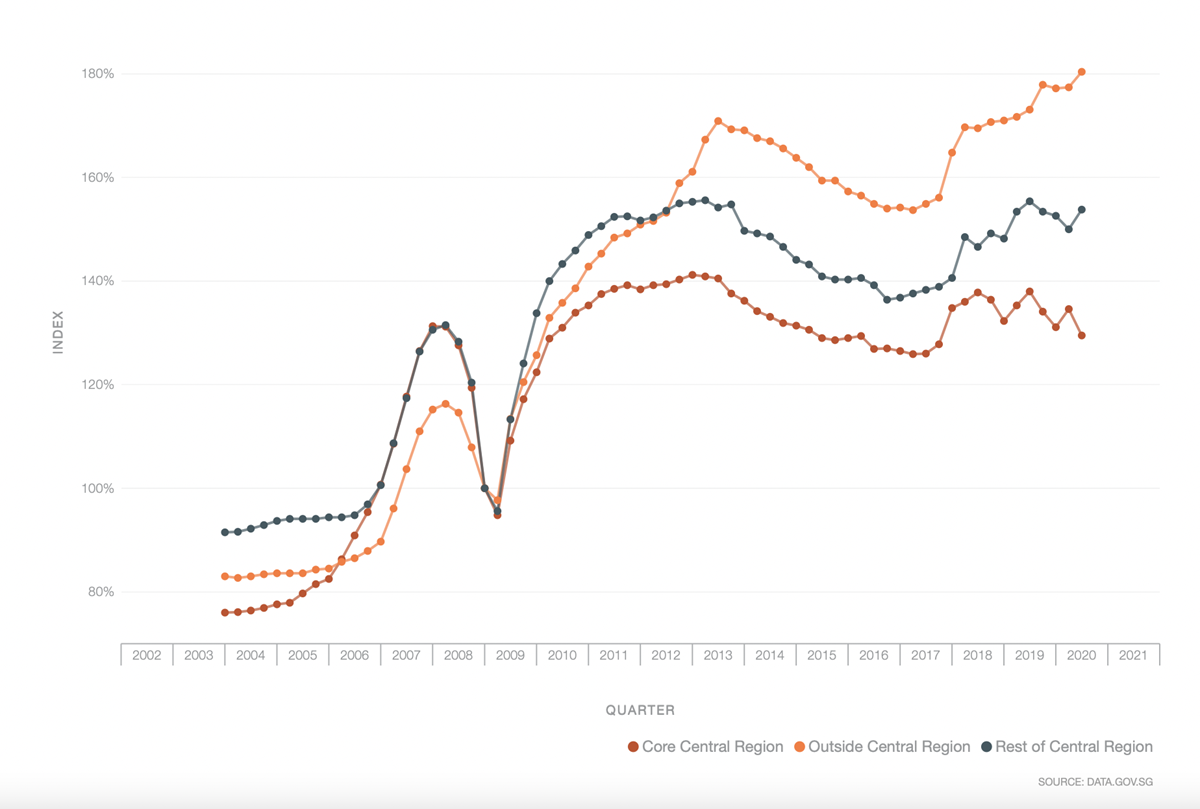 For married couples or have intention to get married, you should immediately research on any upcoming HDB Built-To-Order (BTO) releases as soon as possible to secure a unit. Due to Covid-19, some constructions were put on hold in Q2 and Q3 2020, most projects are expected to be delayed and it would mean a few more years later that you will get your property.
Furthermore, another aspect we need to consider is the combined income. While the government has raised the household income cap to $14,000 for BTOs and $16,000 for Executive Condominiums (ECs), this cap is easily surpassed after a few years for fresh graduates as the median income for graduates now is $4,437 (source: https://blog.seedly.sg/graduate-starting-salary-nus-ntu-smu-sutd-sit/). Based on my own experience, I graduated in 2008 and applied for BTOs intensively. However, the number of BTOs then were far from many and for all the launches, they were more than 3 times oversubscribed! Fast forward a few years, before I even know it, by 2011, my spouse and my combined household salary exceeded the income cap and were no longer eligible to purchase BTOs.
2. Foreigners
The covid-19 situation has led to rents stagnating as demand remains lukewarm. Air-travel has almost frozen and the influx of expats into Singapore is expected to be subdued. Rental prices have suppressed as seen from the chart below and with the current second wave of Covid-19 cases around the world, I expect rents to stay at current levels or even lower.
Hence, for foreigners that have been renting properties in Singapore, they should continue to do so as compared to buying a property. The additional costs of buying a property for a foreigner is massive and unless there is high confidence that there is at least 30% profit in selling the property, it is not an attractive investment.
The costs for a foreigner to purchase a property (list is not exhaustive):
Additional Buyer Stamp Duty (ABSD) of 20% of purchase price
Buyer Stamp Duty (BSD) of about 4% of purchase price
Seller Stamp Duty (SSD) of up to 12% (if property is sold within the first year of acquisition)
Property Tax of at least 4% of Annual Value (Annual Value is the yearly rent of an unfurnished unit, approximately 2-3% of property value)
Maintenance Fees
Renovation Costs
Just by looking at the costs involved in buying a property as a foreigner, it is logical to just rent a property. However, if at any point of time, if a conversion to a Singaporean PR takes place, they may start considering to buy a property and the reasons why they need to do so are detailed in the next section.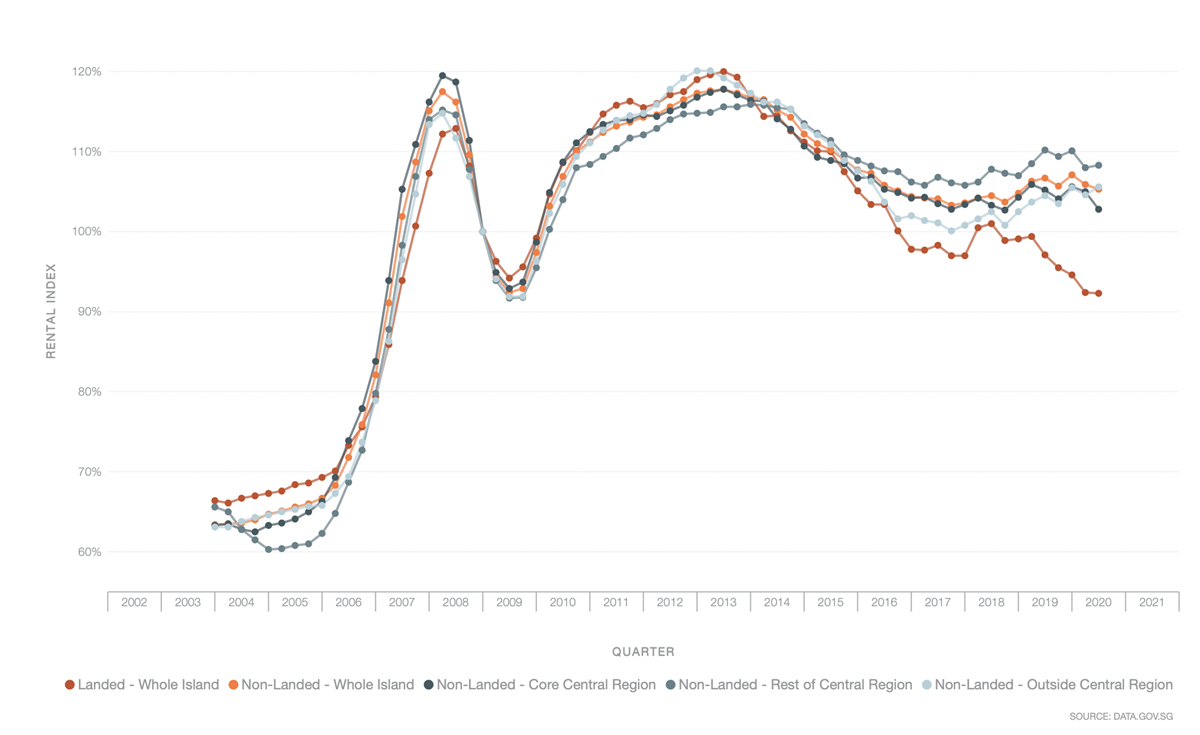 3. Singaporean PRs
This is a group which could amplify on their advantage and benefit from it. As Singaporean PRs, without forming a family nucleus with a Singapore citizen, they cannot apply for BTOs. Even though the spectrum of properties available is smaller, the depth of resale HDBs, private properties and even new launches is sufficient to cater to this segment.
ABSD
As Singaporean PRs, they are subjected to a 5% ABSD when they purchase a property in Singapore. This may seem a lot initially but considering that property prices have risen 12.5% (for OCR) and 10% (for RCR) since 2017, I don't think this should be a major concern for Singaporean PRs.
Rental Expenses
The rent of a property is could be between 2 - 4% of the property value, this is based on the gross rental yield which is what the tenant pays (source: https://www.99.co/blog/singapore/property-jargon-of-the-day-rental-yield/). What this actually means is that since 2017, the aggregate rent paid is 6 - 12% of the property value → you could have own one-tenth of the house you rental if you would have purchased it!

Central Provident Fund (CPF)
It is mandatory for Singaporean PRs to contribute to their CPF accounts. The contributions will increase from 9% (4% employer + 5% employee) in the first year, to 24% (10% employer + 14% employee) in the second and 37% (20% employer + 17% employee) from the third year onwards.
These contributions will then be split in the ratio of about 6 : 1.5 : 2.5 into your Ordinary Account, Special Account and Medisave Account respectively. And if you do not know by now, monies in your Ordinary Account could be used to service your mortgage loan. Hence, instead of letting the monies sit in the Ordinary Account, you could shave about $1,000 of your monthly mortgage by paying from your CPF.
Of course, do note that CPF Board expects you to return the monies + 2.5% back to your Ordinary Account upon selling the property. It's like paying yourself interests, after all, these monies are yours and you could use them for your next property.
Net Impact
So what is the net cost of renting versus buying a property for Singaporean PRs?
| | | |
| --- | --- | --- |
| Considering a $1,000,000 property purchase since 2017 | Renting | Buying |
| ABSD (5%) | 0 | -$50,000 |
| BSD (about 4%) | 0 | -$24,600 |
| Rent (about 3% per annum) | -$90,000 | 0 |
| Property Tax | 0 | -$880 |
| Maintenance Fees | 0 | -$4,000 |
| Property value gain (assuming a conservative 10% gain in RCR) | 0 | +$100,000 |
| TOTAL | -$90,000 | +$19,120 |
It is quite evident from the table above that despite the ABSD payable for Singaporean PRs, on a long term basis, the benefits of purchasing your own home outweighs the costs. Do note that the above illustration does not take into account the costs involved in taking up a mortgage (interests, mortgage stamp duty).
In summary, Singapore citizens and PRs should purchase a property as soon as possible if they do not have any. To re-iterate, it is not a matter of "right time" to buy, but the "right unit" to buy. As for foreigners, if there are plans to stay and settle down in Singapore, the first move is to apply for permanent residency and subsequently purchase a property!